Utrecht Chalk Board
Chalk and chalk pastel on chalkboard. Approx 6X20 ft

During my time working at Utrecht Art Supplies in Savannah GA I helped create signage for store use. The biggest project I worked on was the large chalkboard behind the counter. The concept here was to push the idea that the store employees are artists who understand the use of the materials we sell from a practical point of view. After throwing around a few designs two coworkers and I settled on the idea of doing artists portraits in their own styles but with them wearing the store aprons (our uniforms).
The entire thing was done with chalk and pastels. Most of it was large cheap Crayola Sidewalk Chalk and broken Nu-Pastels we couldn't sell.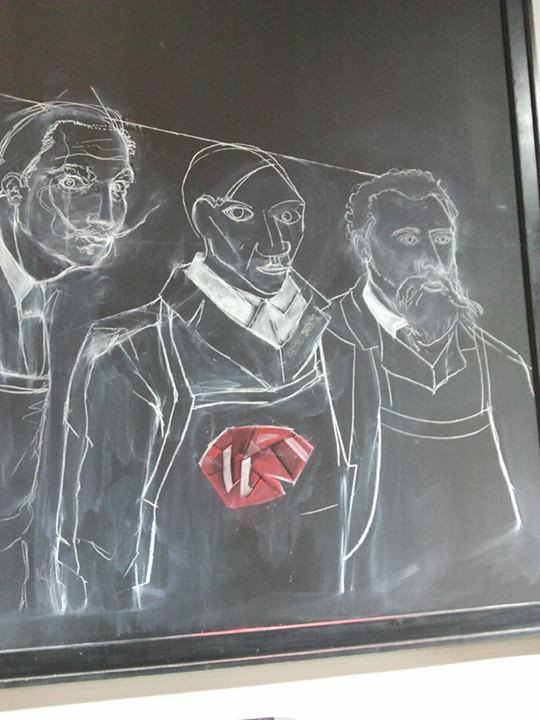 Here we see Salvador Dalí, Picasso and Georges Seurat. I drew all three of these.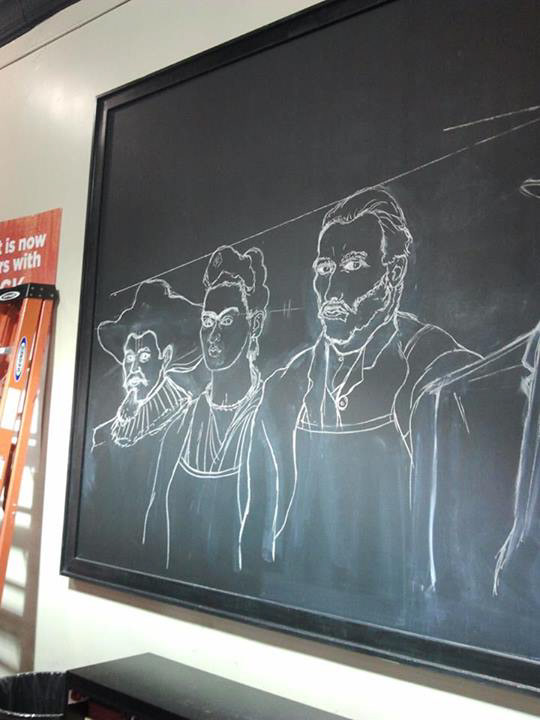 On this side is Rembrandt Harmenszoon van Rijn , Frida Kahlo and Vincent Van-Gogh. Rembrandt was drawn by Heather Conrad, Frida and Van-Gogh were drawn by Brook Gomez.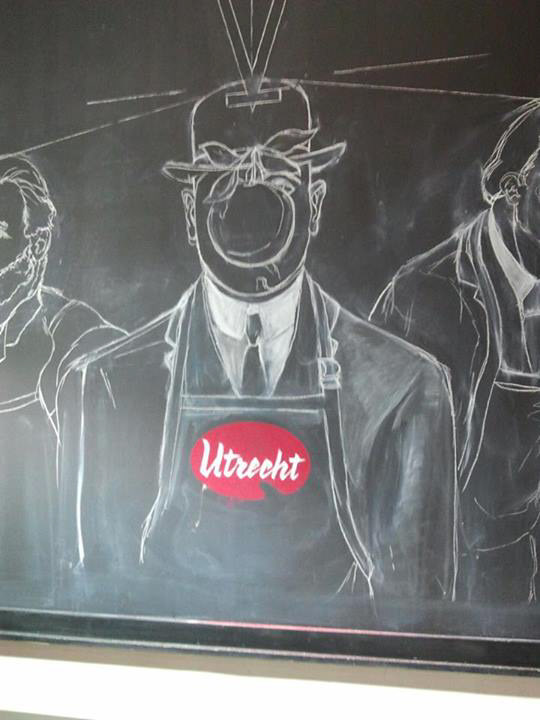 The center of the composition is from Rene Magritte's 
The Son of Man
which is largely believed to be a self portrait. This was drawn by Heather.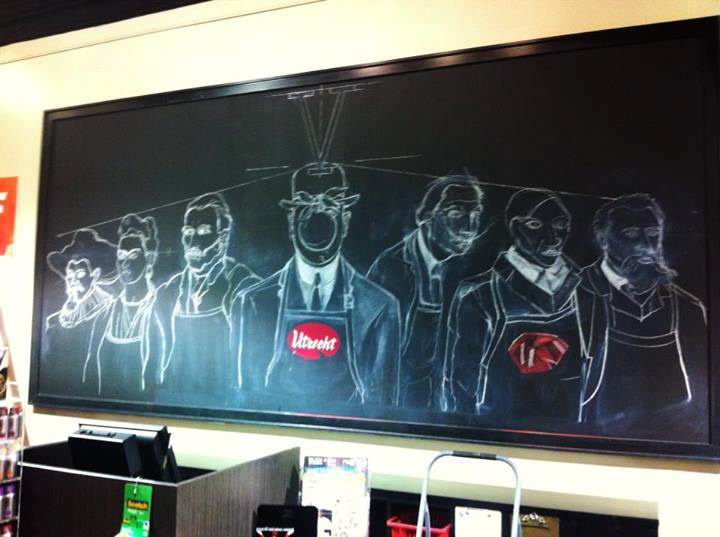 Once everyone was sketched out we began figuring out how to imitate their personal styles. This stage was very fun, up to this point I'd never rendered anything in pastel or chalk this large. I began with Seurat since tho time consuming it seemed the simplest process.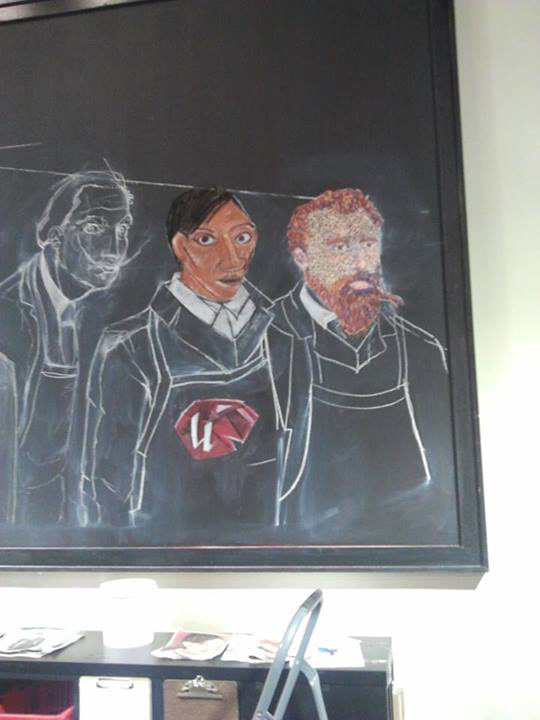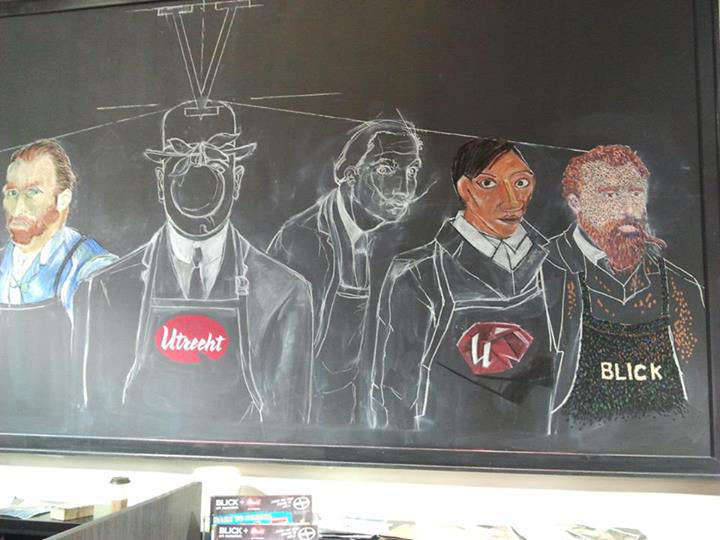 At this point I guess I should note that Utrecht was bought by Dick Blick Art Materials. Because we are in essence the same company now we were required to show both logos.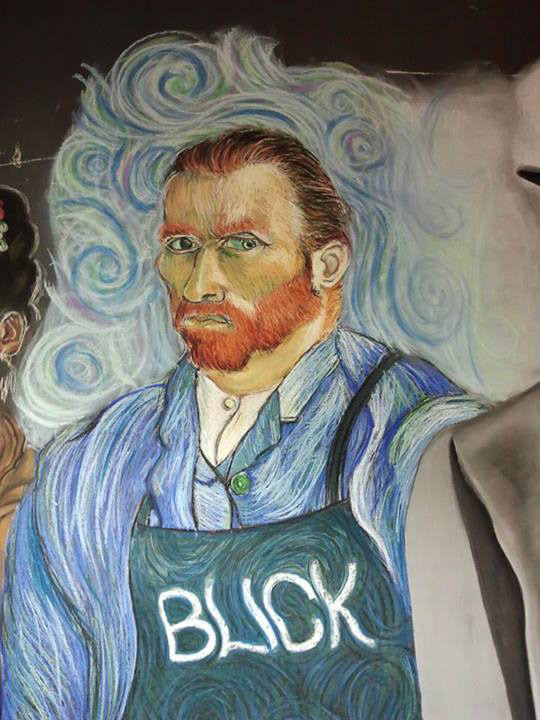 Even though Brook drew Van-Gogh I rendered him. He's one of my favorite artists and I've imitated his style many times before. I enjoyed this bit the most I think.
Brooks struggle with drawing, re-drawing, rendering, erasing, re-drawing, and re-rendering Frida several times over several days  was a perfect example of how you can fix any drawing or painting no matter how difficult it is as long as you  are willing to keep working at it until it is right.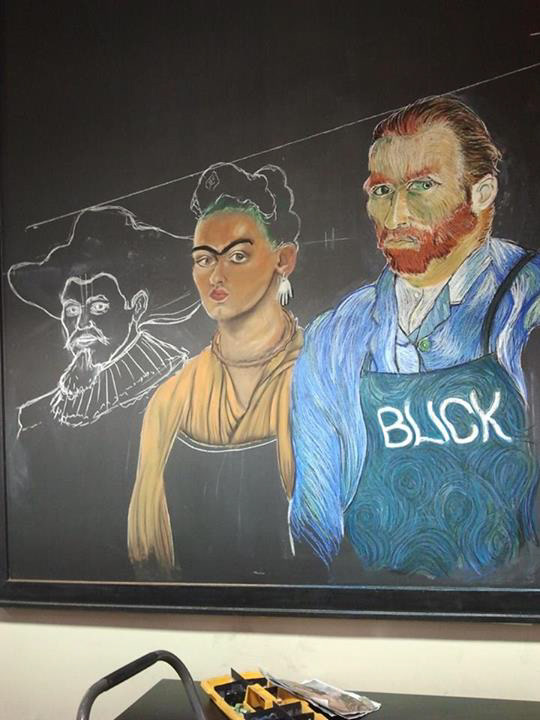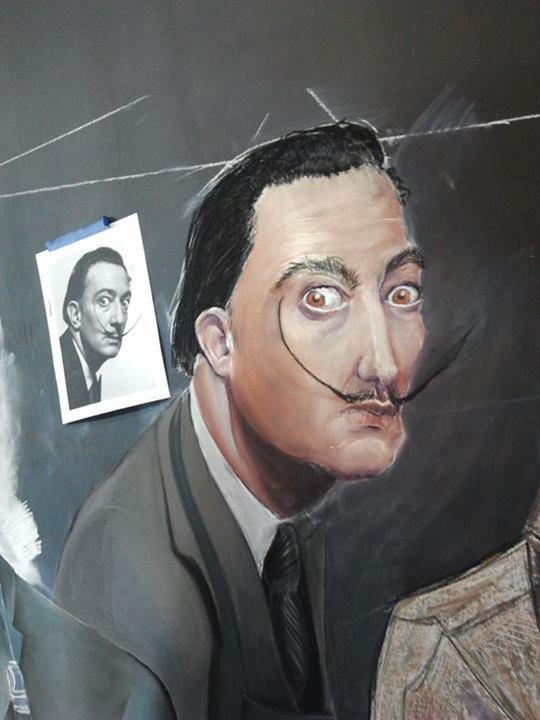 Dali is another favorite of mine. I put him off for a little while so i could have time to figure out how to really render with the chalk. I had to use my imagination a bit since I was working with a black and white photo for reference. I eventually got it to a point that made me happy. My experience here was very similar to Brook's experience with Frida, Van-Gogh was enjoyable because it was natural but Dalí was enjoyable because he was such an interesting challenge.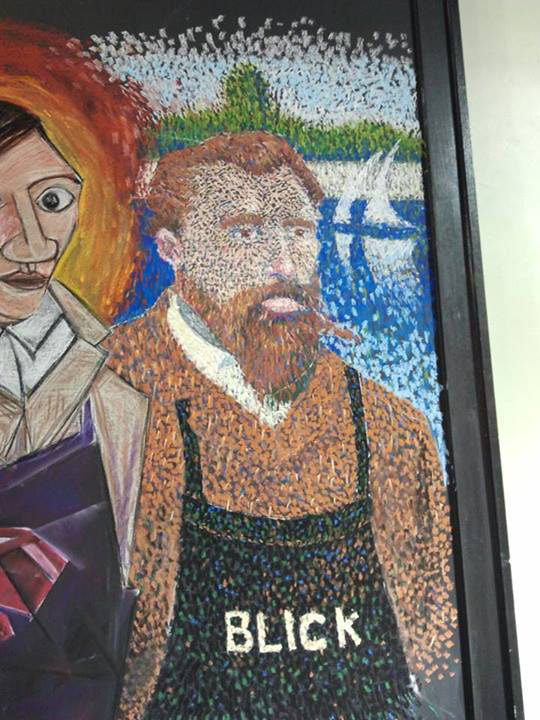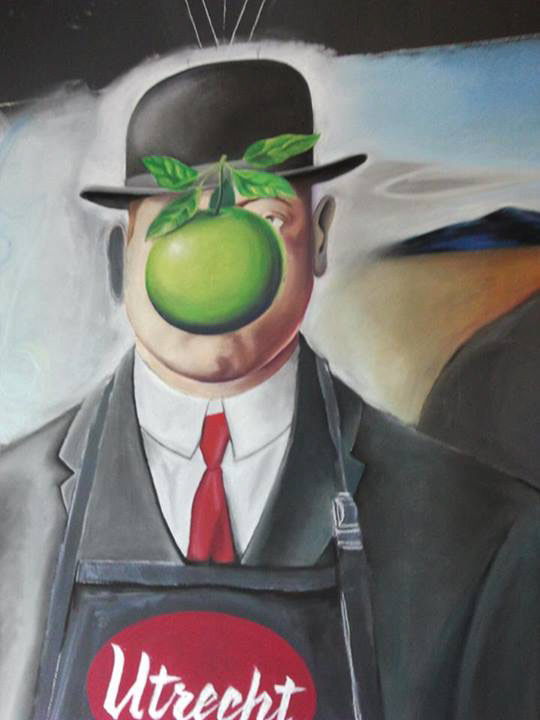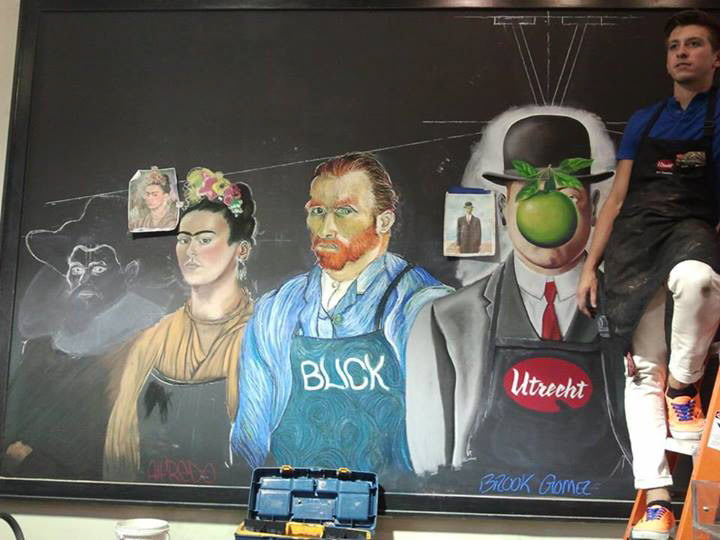 Back on this side you can see all the work Heather had done on both Rembrandt and on René Magritte. This photo doesn't do justice to how tasty the apple looks in person. The the far right you can see brook. No doubt contemplating why he chose to wear white pants on a day he knew he would be doing this.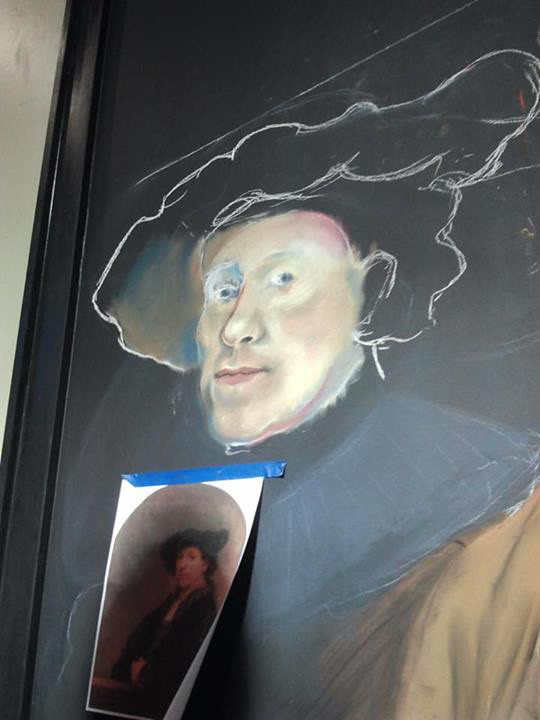 Heather in the process of smoothing her rendering (by rubbing it very thin with her finger) so fiercely that she actually took off a good bit of skin and had red sore hands. Brook and I called her a girl and laughed.
We then promptly had the same thing happen to our hands.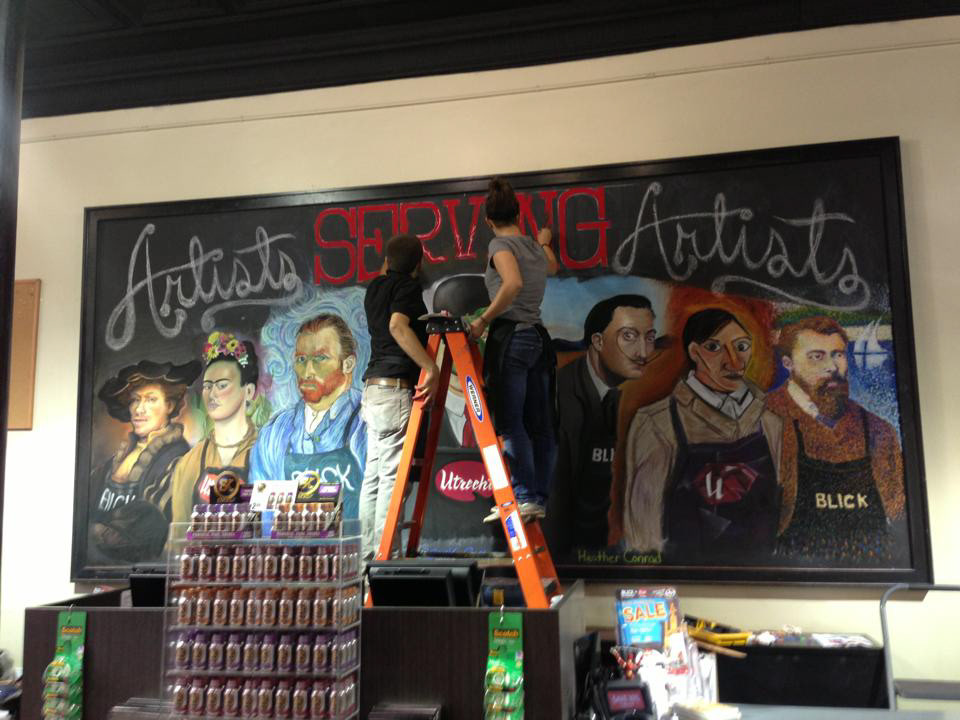 After adding backgrounds from iconic paintings we addedd text.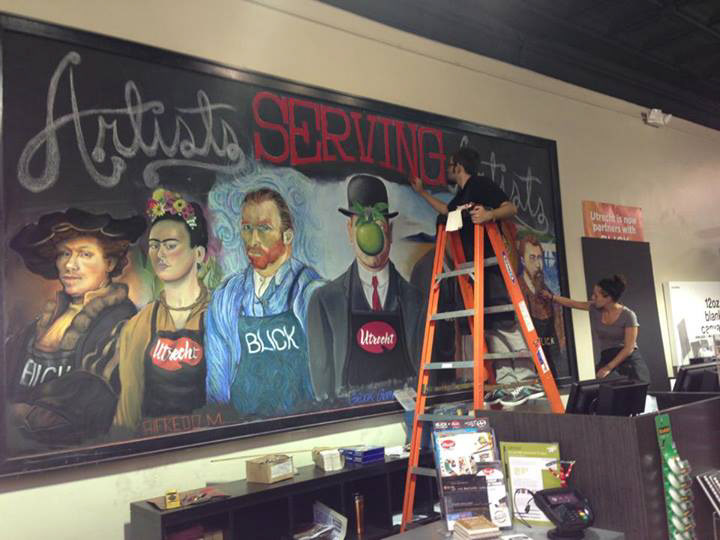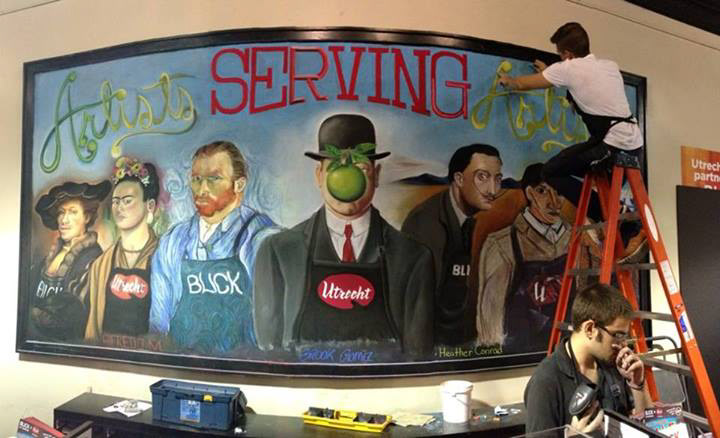 After seeing the text up on the board we all decided that we weren't too happy with it.  Brook and another co-worker (Kenny Murray) re-designed the text on paper and put it up on the board. unfortunately we don't have any pictures of their rework. I came in that day and wasn't very pleased with the changes they made. I noticed however that they had a small sketch of some alternate text that they had not chosen to go with. I liked it. We played with that design and the three of us came to a solution we were much happier with.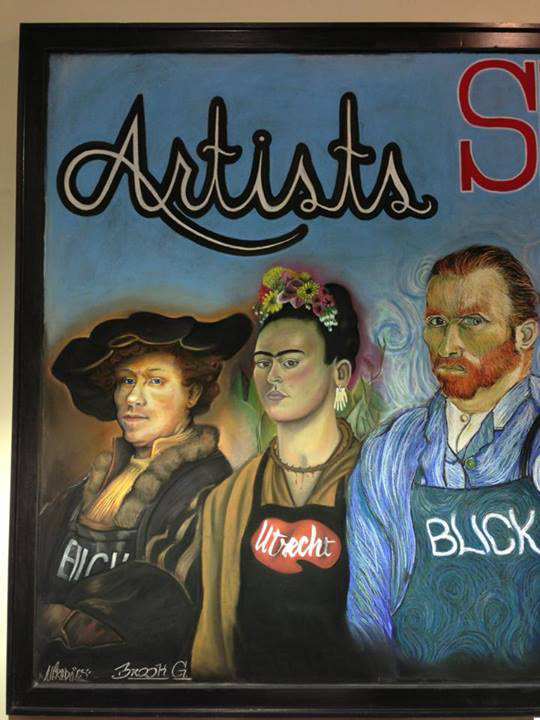 This is the end result. Brook and I both worked on executing the new text while Heather was busy celebrating her birthday by jumping out of planes. (she survived)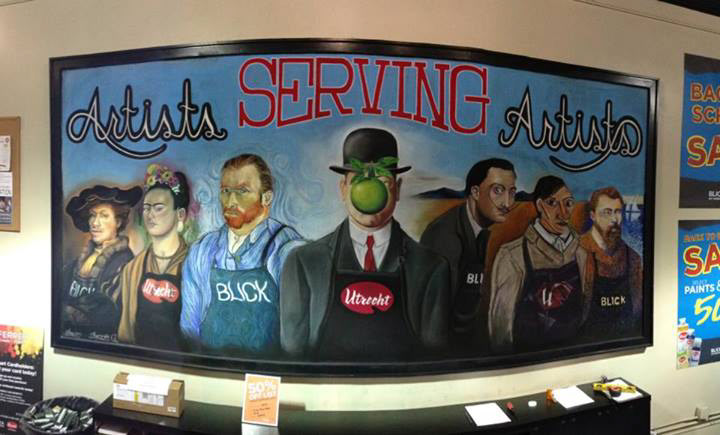 The end product! After loosing some skins, discovering new levels of frustration, breaking a lot of chalk and spending 2 weeks of 8 hour days we had this! At the moment it is still up (it went up in the beginning of Fall, just in time for Back To School). It should stay up until at least January. :)
Besides the main board I also did several different posters/live painting events and sandwich board ads for sales and demos.